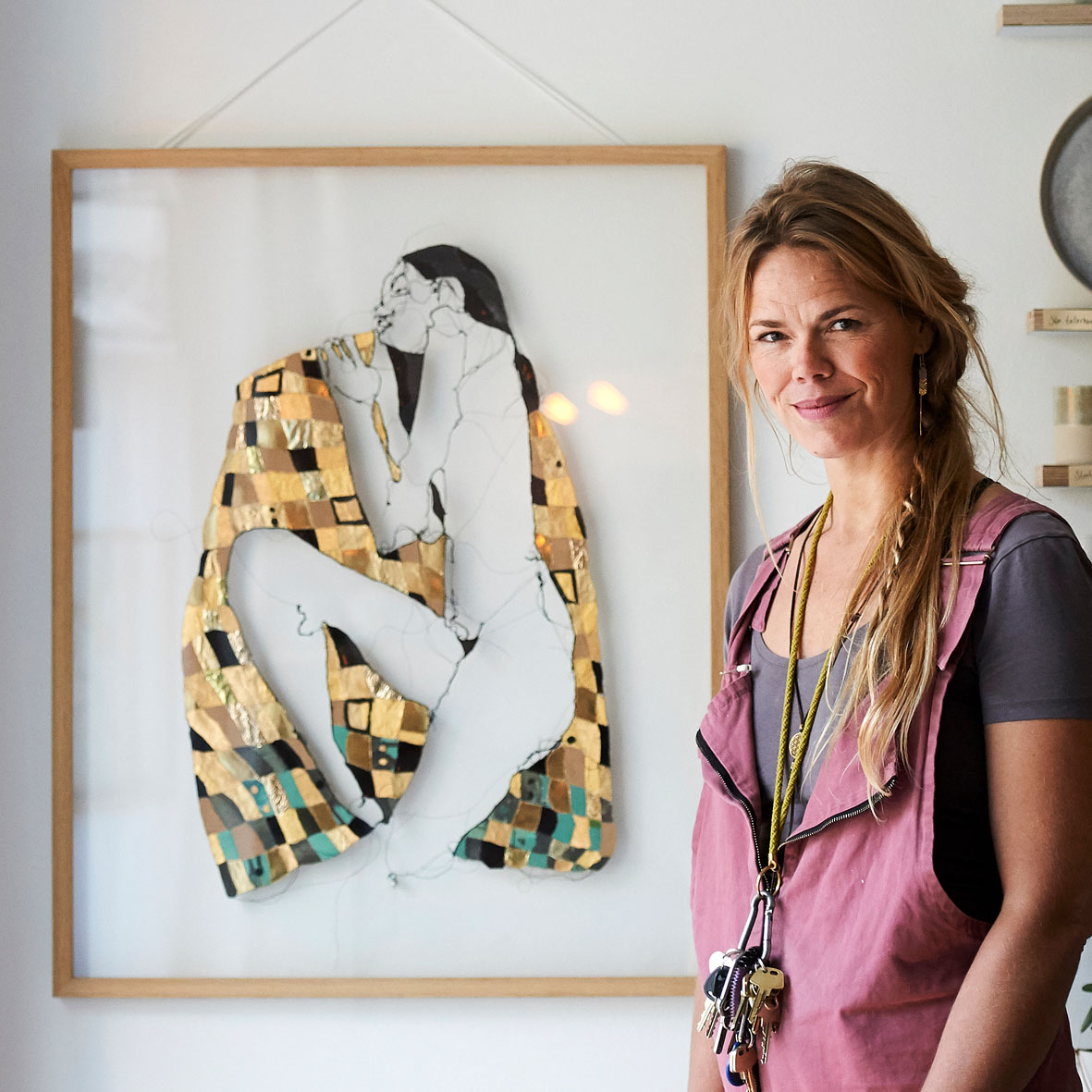 Titel: "Woman in Blanket" from the exhibition "working with Schiele" 2018.
(Danish below)
Thanks for visiting the Madstitch Webshop. My name is Ditte Sørensen, a visual artist based in Copenhagen, Denmark.

I neither draw nor paint my works, rather I see my sewing thread as a fragile pencil from which little stories sometimes originate. I have a affinity for the less than glamorous ones. My approach to image work is curiosity, both for the medium, materials and the deviation from the norms. At the same time I'm also deeply curious about what may emerge from the depths. Sometimes it all ends in an altercation, but the pictures that emerge from it are often the most rewarding. For me. Especially when works of art become visual conduits for emotions, both the ones that nurture but not least the ones that sting.

I use this webshop as an online gallery as well as a retail outlet for my limited edition art prints, giclée prints and postcards. There are only a small handful of originals here, but if you are interested in an original, feel free to send me a message. I have several at my workshop in the Northwest of Copenhagen, where you're also welcome in person. Whether you want to pick up a picture, fancy a chat or you're just interested in seeing which originals I currently have, feel free to pay me a visit.

If you are curious to know more about me or Madstitch, I've collected a handful of interviews and videos on my primary website at www.madstitch.com. Here you can also find information about my upcoming workshops and exhibitions.

If you have any other questions, do not hesitate to send me a message.

PS: I do not currently accept any commission works.
___________________________________________________________________
Tak fordi du landede på min webbutik. Mit navn er Ditte Sørensen, billedkunstner med base i nordvestkvarteret, København.

Jeg hverken tegner eller maler mine værker, men jeg ser min sytråd som en skrøbelig pensel, hvorfra der somme tider udspringer små historier. Og så har jeg en forkærlighed for de skæve af slagsen. Min tilgang til billedarbejde er en nysgerrighed, både til medier, materialer og brydning af disse, men også en nysgerrighed på, hvad end der kommer frem af dybet. Sommetider ender det i en slåskamp, men billeder der fremstammer heraf, er oftest de mest givende. For mig. Når værker bliver til visuelle afløb for følelser, både dem der nærer og ikke mindst dem der bider.

Jeg benytter denne webshop som online galleri, såvel som til at formidle mine limited edition kunsttryk, giclée prints og postkort. Der er kun en lille håndfuld originaler på siden, men hvis du er interesseret i en original, så send mig gerne en besked. Jeg har flere på mit værksted i Nordvest København, hvor du også er velkommen til at aflægge mig et besøg. Både hvis du vil afhente et billede, ønsker en snak eller blot er interesseret i at se hvilke originaler jeg pt. har liggende.

Hvis du er nysgerrig på at vide mere om mig eller mit Madstitch, så har jeg samlet en håndfuld interviews og videoer på min primære hjemmeside www.madstitch.com. Her kan du også finde information om mine kommende workshops og udstillinger.
Hvis du har andre spørgsmål, så tøv ikke med at sende mig en besked på: [email protected]

PS: Jeg modtager for øjeblikket ikke nogen special / portræt bestillinger.